Vise Terminology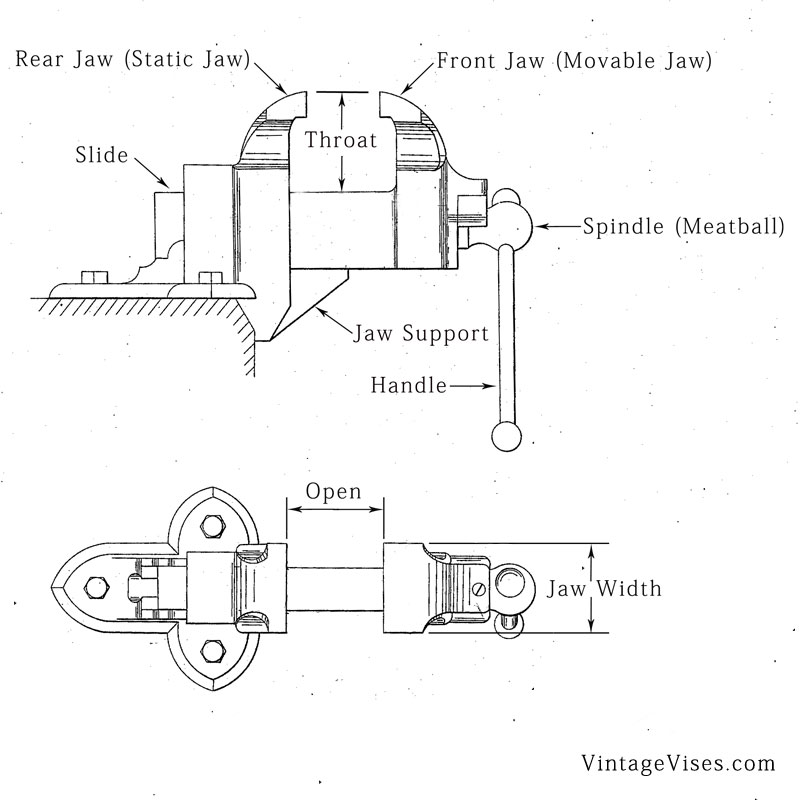 Vintage Vise Dictionary
It's always good to know how to speak vise!
Handle: The working end of the vise, where your hands grasp to turn the spindle. Most handles are made from steel and have some form of end caps to prevent the handle from slipping out of the meatball.


Front Jaw: The jaw closest to you when operating the vise, sometimes referred to as the movable jaw or dynamic jaw. This is due to the fact that it's usually the jaw that moves when the spindle is turned. (Except on European vises like the FPU/Bison where the Rear Jaw moves)


Rear Jaw: Opposite the Front Jaw and often referred to as the Static jaw.


Jaw Support: The section of the base that sticks out and provides structural support to the movable section of the vise(Slide). Usually an integral cast feature of the main body of the vise.


Slide: The section of the vise that slides in and out of the main body of the vise. Usually part of the same casting as the movable jaw and rectangular in shape. Wilton vises are famous for using a round slide design (iconic bullet shape) and a key to keep the slide from rotating.


Vise Measurements: Nothing causes more confusion when searching online for a vise. Sellers will list a vise as a 6" Vise when the jaw width is really 4" and they are measuring the opening dimension.



Jaw Width: THE way vises are measured and referred to since the history of vises began! This is the number most model numbers reference e.g. Charles Parker 954 (last number in model is jaw width)


Open: How far the vise opens. This is a subjective measurement as usually when the spindle of the vise is engaged the slide is not fully seated in the body of the vise and is not strong enough to take the punishment of a hammer blow. I tend to measure the opening of a vise with the slide sticking out of the rear opening of the body of at least 1/4". In the case of Wilton vises, 2 turns of the spindle should be enough engagement for full clamping strength. This still may not be the strongest position for the vise if you are swinging a large hammer at what you have clamped in the vise, so proceed with caution.


Throat: The distance from the top of the jaws to the top of the slide. This dimension represent how deep a part you can clamp into the vise.